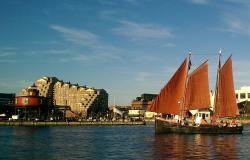 The "Tugantine" Norfolk Rebel is the first designed and built sail-assisted tug boat. Designed by Merritt Walter and built by Howdy Bailey Yacht Services, she was first launched on May 22, 1980 in Norfolk. Her design was to harness the wind to help save fuel. The late Captain Lane Briggs used her for towing and salvage work. He also escorted tall ships and participated in OpSail events. Captain Lane and his tugantine also helped to develop the waterfront at Norfolk's Town Point Park.
In 1988 at the launching of Pride of Baltimore, Captain Lane challenged Captain Miles to a race down the Chesapeake Bay. The winner would buy the beer! From that challenge, the Great Chesapeake Bay Schooner Race was born. Though he passed way in 2005, his spirit lives on in our love of the Chesapeake Bay and the schooners who sail here. Norfolk Rebel is sailing once again for the Great Chesapeake Bay Schooner Race, to keep Captain Lane's vision alive.
For over 30 years now, the Great Chesapeake Bay Schooner Race has been hard at work on its multifaceted mission: to promote awareness of the Chesapeake Bay's heritage; to encourage preservation of the Bay's resources; to support Chesapeake Bay education and clean-up efforts; to bring historic schooners to the Bay; and to encourage schooner sailing and preservation. The race brings focus to the maritime traditions of schooners on the Chesapeake and brings attention to the environmental issues facing the Bay's ecosystem. All net proceeds of the race are donated to support youth education and other efforts aimed at preserving Bay ecology and culture. This is why the Great Chesapeake Bay Schooner Race is proud to say they are "Racing to Save the Bay!"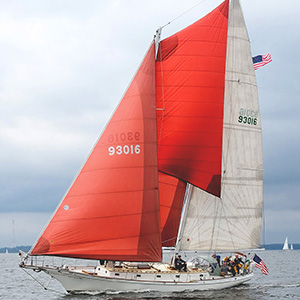 Schooner Adventurer, captained by the renowned Duncan Hood, has been a part of the Great Chesapeake Bay Schooner Race for many years. This year she will be raising money for GCBSR.
Click here for video about Adventurer and the Virtual Race!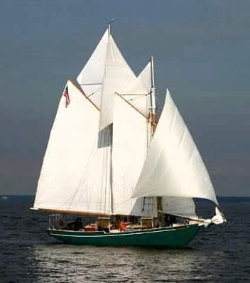 Andy Merrill built Farewell in his backyard and launched her in 1972. Her second owner started racing the schooner in the Great Chesapeake Bay Schooner Race in the early years, and often won her class. Captain Linda Gunn purchased the schooner in 1998 after surviving cancer, and she has continued the tradition. A lover of schooners, Linda has served as Captain, Mate, and Educator aboard several different vessels. She now lives aboard Farewell, and is proud to be racing on behalf of the Maryland Science Center.
As Maryland's largest institution dedicated to informal STEM learning, the Maryland Science Center provides valuable educational experiences both at their location in Baltimore and through outreach programming across the mid-Atlantic region.  Whether they're providing free field trip admission for every student in Maryland, offering teacher's professional development opportunities, or expanding their outreach programs in every county, the Maryland Science Center relies on generous donors to help further their mission to inspire, empower, and engage through science education. With your help, the Maryland Science Center will be able to continue to spark excitement for STEM in the next generation.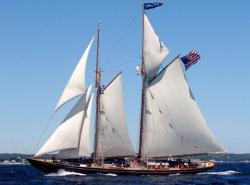 Downtown Norfolk,  Schooner Virginia serves the Nauticus mission in engaging the Hampton Roads community with a focus on delivering transformative maritime experiences and hands on learning to students of all backgrounds and ages, museum visitors and the general public. The Schooner Virginia's programming emphasizes STEM education, maritime history, tall ship training, workforce development and the conservation of our local waterways.
Schooner Virginia is raising funds for the Nauticus Foundation, the nonprofit organization established to promote the mission and activities of Nauticus. Norfolk, Virginia's Nauticus is an exciting interactive science and technology center that explores the naval, economic, and nautical power of the sea. It serves as home to the historic Battleship Wisconsin, the Schooner Virginia, and much more. The Nauticus Foundation's mission is to benefit its community through education, impactful experiences and by sharing access to maritime resources.
Schooner Virginia is a loyal participant in the Great Chesapeake Bay Schooner Race. The race is something supporters and volunteers look forward to each year. Virginia's participation in the virtual race not only helps raise critical revenue to support the foundation, but also to promote passion for tall ships and continued education for the public.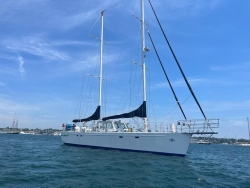 R/V Marie Tharpe is a unique vessel because she is the research platform and flagship for the Ocean Research Project. This Annapolis-based nonprofit is dedicated to scientific exploration under sail, in pursuit of the knowledge necessary to better understand human-induced stress on the ocean. Marie Tharpe is currently conducting climate research in the sub-arctic, and you can follow her adventures at her blog.
The Virtual Race is an exciting opportunity to raise awareness about the Ocean Research Project, and to showcase their flagship research vessel.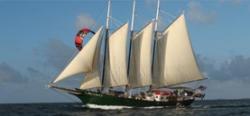 Alliance is a 105-foot, 3-masted, gaff-rigged schooner that allows visitors to step back into history. Alliance offers sailing charters from Yorktown Virginia. She sails 3 times daily from the Yorktown Riverwalk Landing Pier in historic Yorktown from April to November.
Alliance is sailing again this year in support of the Watermen's Museum in Yorktown. This small, private museum demonstrates the role Chesapeake Bay Watermen (professionals on the water), from pre-colonial to modern times, have played in the shaping of our nation. They provide historical exhibits depicting military and civilian water craft and activities, crafts and methods of their trade, and a look into the lives of the people that have worked and fought on the water.
Schooner Windsong is a 47-foot Tancook Schooner designed by Ray Stevens of Nova Scotia. She was built by Guy H. Asbury between 1954 and 1960 in Yarmouth, Nova Scotia. Much of her life was spent in New York; both around Long Island, and on Lake Ontario. Throughout her life she has been named Pleiades, Dream, John A. Noble, Chasseur, and Sara B. Windsong is now owned by Corey Roy and Bronwyn Comer, and is based out of Norfolk, Virginia.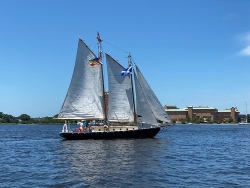 Windsong is racing on behalf of the Vessel Disposal and Reuse Foundation, a Virginia Beach-based nonprofit that helps waterways achieve sustainable health through removal of abandoned and derelict vessels, public outreach, and education. Windsong owner Corey Roy met Mike Provost of the Vessel Disposal and Reuse Foundation last year at Norfolk's Harborfest. The two share a passion for the continuing health of the Chesapeake Bay. Roy was impressed by the Foundation's dedication and effectiveness in removing derelict vessels from the waterways connected to the lower Bay. Their partnership is a natural fit, and they are excited to be competing in this year's Virtual Race.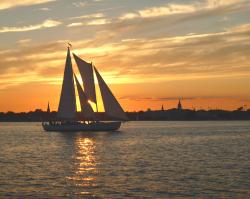 Schooner Woodwind was built to make sailing dreams come true back in 1993 by the Kaye family. For the past 29 years, guests from all over the world have sailed on her for public cruises, private events, multi-day cruises and educational cruises. Just 5 years later her sister, Woodwind II, set sail. Woodwind II is the "movie star" of the family – she played an important role in the movie Wedding Crashers. But it's the classic Woodwind that sails every year in the Great Chesapeake Bay Schooner Race – and she's known to be a fast competitor!
This year Woodwind is sailing on behalf of GCBSR's Education Fund. Contributions to the Woodwind team will be used to facilitate shipboard educational programming. Over the past two years, Woodwind has used funds raised in the Virtual Race to take kids and families from the Annapolis community out sailing. Many of these kids and families would not typically have easy access to this experience.  The sails are a partnership between The Great Chesapeake Bay Schooner Race, the Schooner Woodwind, the Annapolis Department of Recreation and Parks, and the Annapolis Mayor's Office. These programs give young people an opportunity to experience the fun of sailing and the excitement that comes with it.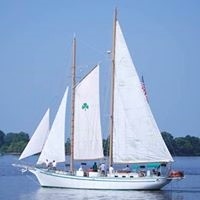 The Schooner North Wind is home to experiential youth programs on the Delaware River. Its primary mission is to offer young people the opportunity to do science and learn history while sailing the Delaware. It funds its mission by offering public and private charters.
Schooner North Wind was previously owned by the City of Gloucester City, New Jersey. But over the course of 2021, North Wind was purchased by the nonprofit Gloucester City Sail. Newly independent, Gloucester City Sail is rebuilding its organization and reengaging youth programs. As a new organization facing increased costs, this fundraising effort is an essential element in establishing financial stability.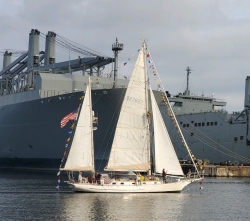 SV Bennu is a 1980 Cherubini 44 Ketch, designed by John Cherubini in the early 1970's and built in Delran, NJ. She is a smaller sistership to the other Cherubini Schooner entries and is honored to be included in the new non-schooner invitational class of the Great Chesapeake Bay Schooner Race. She is a well-traveled boat, and has completed a circumnavigation of the globe. Her current owner, Julianne DeGraw Fettus, has sailed her in the 2021 Annapolis to Newport Race, and has spent time cruising the waters of New England. Her home port, however, is on the Severn River in Maryland.
Bennu is sailing to support the Severn River Association. Their mission is to connect the people who live, work, and play on the Severn River to restore and protect it for all of our communities. The Association has a range of programs to help restore, protect, and educate about this amazing place. Among their outstanding efforts is their Build-a-Reef program, which has planted 70,000,000 baby oysters in the Severn River since 2018!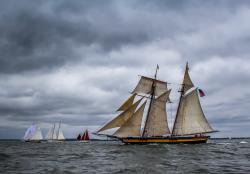 Pride of Baltimore II is a historically-evocative reproduction of the Baltimore Clipper style vessels made famous during the War of 1812. Capturing public imagination through unique worldwide voyages of discovery, Pride II honors Maryland seafarers of all eras and, wherever she sails, shares the innovation, entrepreneurial spirit, and patriotism that forged and continues to define Maryland's maritime identity. Since her commissioning in 1988, Pride II has sailed over 275,000 nautical miles and visited more than 200 ports in 40 countries. Her mission is to promote historical maritime education, foster economic development and tourism, and represent the people of Maryland in every port she visits.
Pride of Baltimore is excited to be competing in the third annual Virtual Great Chesapeake Bay Schooner Race! This year they are racing to raise money for their Pride of Baltimore Junior Sailor ScholarShip Fund. Over the past two years, they have provided nearly $10,000 in scholarships to Baltimore area youth, allowing them to learn to sail at no cost to their families.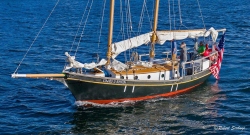 Edward D. Boynton is a Thomas Colvin "Saugeen Witch," one of only two built in fiberglass. She holds a Fisheries endorsement on her documentation and her home port is Gloucester, Massachusetts – making her the last (and smallest) Gloucester fishing schooner. She is currently undergoing a refit in Belmont, Maine, but will be relaunching very soon!
Edward D. Boynton is virtually sailing to raise funds for the Sail, Power, & Steam Museum. The museum's mission is to enrich the lives of visitors, volunteers, and the general public of the state of Maine through hands-on, interactive and educational experiences with historically significant sailing, power, and steam vessels, ships, and small boats while providing instruction as to their origins, construction, and original commercial and recreational purposes.